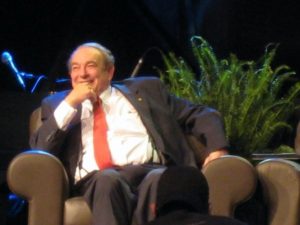 This week brings news of the passing of a great Christian teacher and organizer. I personally count theologian R. C. Sproul as one of my "virtual teachers", as his publicly available lectures have been a great source of personal reflection and spiritual formation.
He was a powerful advocate for Reformed theology and helped me to understand it better as at least one very logical approach to understanding scripture. (I don't necessarily regard myself a convert to that approach but I see its validity). Most of all he was passionate about Christianity and can be considered one of its better expounders from the late 20th century.
A tribute from famed author and speaker John Piper praises Sproul for "an incomparable combination of his unashamed allegiance to the absolute sovereignty and centrality of God, his total devotion to the inerrancy and radical relevance of the Christian Scriptures, his serious and rigorous attention to the actual text of Scripture in shaping his views, and his jolting formulations of biblical truth in relation to contemporary reality."
"This was R.C.'s goal: a heart that is stunned and humbled and captivated by the transcendent greatness and purity of God."
I cannot say it better. He died Dec 14 at age 78.