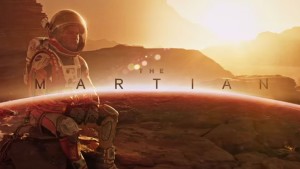 "The Martian" is the kind of movie I used to love as a kid, full of heroic scientists, and the wonders of space travel, and the best aspects of human achievement. I guess my Christianity has always been sprinkled with a bit of humanism–in the best sense of the term.
This movie will of course be compared to the other "space realism" movies that have come out in the last two years. It is a warmer and less theological movie than "Gravity", though it does touch on that loneliness of being alone in space (or in this case, on Mars), and it approaches some of the big existential issues. Really, though, this hearkens back more to "Apollo 13." This is a fairly straightforward saga of one man's survival in an unforgiving environment, in this case Mars. As with Ron Howard's movie, teams of NASA engineers and scientists must figure out how to solve seemingly insurmountable problems to get him home safely, while the whole world watches.
At one moment in the film, the main character played by Matt Damon asks a colleague on a nearby space vessel to relay a message to his parents. What he says here is very touching. He wants to reassure them that he loves his work and that his death has meaning. I don't remember the exact wording, but he says something to the effect of "I died for something that is bigger than me."
That phrase resonates with my own longing for a meaningful life. Ultimately, for all of God's children, life does have that kind of meaning. We live for the kingdom of God. We do the tasks God has given to us to do, and can go on to our eternal rest satisfied that we died for something that is bigger than us. As the great apostle Paul stated when contemplating his own death, "for me to live is Christ, and to die is gain."
This is not to belittle human achievement on its own terms. When humanity listens to "the better angels of our nature", when it ascends the highest peaks, when it produces masterworks of art or sublime music, when it rises above self-destructive appetites in order to do good, and when it reaches into space, we as Christians should appreciate these things. We do not worship humanity, of course, but we worship the God that made us, and who deeply loves us. These achievements are gifts, reflecting the common grace of God. We are seeing in them the spark of divinity, the echo of that image of God that has been given to each of us.