Hymn: Christ, the Fair Glory of the Holy Angels
In honor of today's Feast of Saint Michael and All Angels (Michaelmas).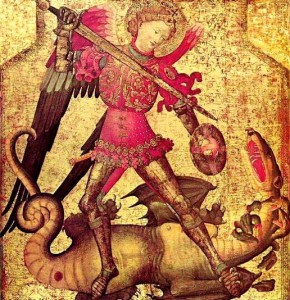 Photo: Public Domain image of St. Michael, by unknown Spanish painter, in the Metropolitan Museum of Art, New York City.
Relevent Verse: "For he shall give his angels charge over thee, to keep thee in all thy ways." Psalm 91:11.
Listen:
Lyrics:
Christ, the fair glory of the holy angels
thou who hast made us, thou who o'er us rulest,
grant of thy mercy unto us thy servants
steps up to heaven.

Send thine archangel Michael to our succor;
peacemaker blessèd, may he banish from us
striving and hatred, so that for the peaceful
all things may prosper.

Send thine archangel Gabriel, the mighty;
herald of heaven, may he, from us mortals,
spurn the old serpent, watching o'er the temples
where thou art worshiped.

Send thine archangel Raphael, the restorer
of the misguided ways of men who wander,
who at thy bidding strengthens soul and body
with thine anointing.

May the blest mother of our God and Savior, may the assembly of the saints in glory, may the celestial companies of angels ever assist us.
Father Almighty, Son, and Holy Spirit,
God ever blessèd, be thou our preserver;
thine is the glory which the angels worship,
veiling their faces.
(Words: Latin, ninth century; trans. Athelstan Riley, 1906)
About the hymn
The text was written in the 9th century by Rabanus Marus Magnentius, also known as Hrabanus or Rhabanus, born around 780. He was a Frankish Benedictine monk, the archbishop of Mainz in Germany and a theologian. He was the author of the encyclopaedia De rerum naturis.
The text is commonly set to the tune Caelite plaudens, a French melody from the 1728 Rouen antiphoner, which was subsequently harmonized by the great English composer Ralph Vaughn Williams. It appeared in the English Hymnal of 1906.
For more Information:
Hymnary.org
Wikipedia
Note: The audio file is a public domain recording, available at Internet Archive. It is listed as "St Michael's Conference Hymn"; No further information is available about the venue, organ, or performers.