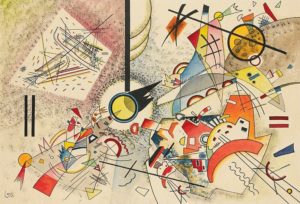 (Image credit: Wassily Kandinsky, Ohne Titel, 1923; public domain, obtained from Wikimedia Commons)
In the book White Oleander by Janet Fitch there is a fascinating scene in which the protagonist, young Astrid, is taken to an exhibit at the art gallery by her foster mother Claire, practically the first loving mother figure in this otherwise sad tale. The exhibition is a collection of the work of Kandinski.
We walked arm in arm through the show, pointing out to each other the details that recurred, the abstracted horsemen, the color changing as a form crossed over another form. Mainly, it was the sense of order, vision retained over time, that brought me to my knees.
I imagined Kandinsky's mind, spread out all over the world, and then gathered together. Everyone having only a piece of the puzzle. Only in a show like this could you see the complete picture, stack the pieces up, hold them up to the light, see how it all fit together. It made me hopeful, like someday my life would make sense too, if I could just hold all the pieces together at the same time.
Christians feel the same way about God–he is the Kandinsky in this metaphor, and the universe is the art gallery.