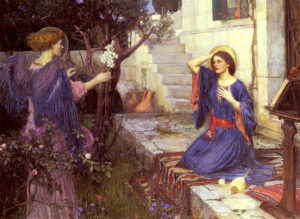 (In many churches, March 25 marks the Feast of the Annunciation, which commemorates the visit to Mary by the archangel Gabriel, to announce that she would bear Jesus).
I have been reading Lionel Shriver's interesting book We Need To Talk About Kevin, a tale of the birth and development of a (fictional) boy who would go on to become a monster, a psychopathic killer. The story is told from the mother's perspective in a series of flashbacks contained in letters to her husband. I was struck by the descriptions of how Eva reacts to her pregnancy. Even though her son's birth would be legitimate, emerging out of union with her husband, she looks upon it with dread. She fusses. She mourns that she can no longer quaff a glass of wine:
Although I didn't think I had a problem, a long draught of rich red at day's end had long been emblematic to me of adulthood, that vaunted American Holy Grail of liberty.
… I did not care so much about being deprived of a glass of wine per se. But like that legendary journey that begins with a single step, I had already embarked upon my first resentment. A petty one, but most resentments are. And one that for its smallness I felt obliged to repress. For that matter, that is the nature of resentment, the objection we cannot express. It is silence more than the complaint itself that makes the emotion so toxic, like poisons the body won't pee away. Hence, hard as I tried to be a grown-up about my cranberry juice, chosen carefully for its resemblance to a young Beaujolais, deep down inside I was a brat.
She muses about how pregnancy is depicted as infestation in horror movies such as "Rosemary's Baby" and "Aliens":
In Alien a foul extraterrestrial claws its way out of John Hurt's belly.
She feels humiliated, demoted to an inferior state, from "driver to vehicle, from householder to house", for a "nine month freeloader."
She frets about the effects of pregnancy on the woman's body. She recalls a meeting with a young mother:
…she had recently given birth to her own first child, and I needed only to say hi for her to begin spewing her despair. Compact, with unusually broad shoulders and close curly black hair, Rita was an attractive woman — in the physical sense. With no solicitation on my part she regaled me with the irreproachable state of her physique before she conceived.
Apparently she'd been using the Nautilus every day, and her definition had never been so sharp, her fat-to-muscle ratio was unreal, her aerobic conditioning topping the charts.
Then pregnancy, well it was terrible! The Nautilus just didn't feel good any more and she'd had to stop—. Now, she was a mess, she could hardly do a sit-up, much less three sets of proper crunches, she was starting from scratch or worse—! This woman was fuming, Franklin; she clearly muttered about her abdominal muscles when she seethed down the street. Yet at no point did she mention the name of her child, its sex, its age, or its father. I remember stepping back, excusing myself to the bar, and slipping away without telling Rita good-bye. What had most mortified me, what I had to flee, was that she sounded not only unfeeling and narcissistic but just like me.
In a sense, the character of Eva speaks for us today. She expresses our individual and cultural ambivalence toward motherhood — nay, toward parenthood of any sort:
"Motherhood was harder than I'd expected," I explained. "I'd been used to airports, sea views, museums. Suddenly, I was stuck with the same few rooms, with Lego."
Compare this now with the reaction of Mary to her upcoming birth, as recorded in the Bible. She had good reason to look upon her role as the bearer of Jesus with some degree of dread. Her son's birth would most likely be perceived as illegitimate, since she was not yet married and Joseph wasn't involved in the conception. People in ancient Israel were not any more gullible than we are. Mary faced ruin and scandal. She faced abandonment by her family, and by her fiancé, Joseph, who could have walked away.
And yet, she responded to the angel Gabriel with firm assent: "be it unto me according to thy word…" (Luke 1:38) Lest there be any thought that her "fiat" was grudging, this was followed by an outburst that revealed that her heart was singing with joy. Her "Magnificat" has been read, recited and sung for centuries: "My soul doth magnify the Lord, and my spirit rejoiceth in God my Savior…"
As one pastor stated, "a teenage girl has shown us all up."