I am Brother James, a professional, a scholar (see below), a lover of music and beauty, an amateur photographer, a father and husband, and above all, a Christian believer.  It is my faith that has propelled me to undertake this endeavor.  Within the church I have worn many hats (teacher, worship leader, choir member, preacher, and now, a kind of cyber-missionary).  I hope that you will be blessed by what you find here.  Regardless of the current condition of your faith, I wish you well.
Full disclosure here: My scholarly activities are not in theology; and I use the moniker "brother" as a way of emphasizing my equality with other believers.  By this use, though, I am not saying that I have taken any monastic vows.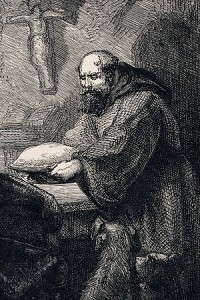 This is not an actual photograph, but the author must admit to more than a passing resemblance.  This is a public domain reproduction of a drawing of Friar Tuck, by J. Cooper, Sr., from Sir Walter Scott's Ivanhoe, 1886.