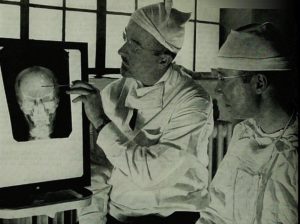 (Dr. Walter Freeman, left, and Dr. James W. Watts study an X ray before a psychosurgical operation, in public domain image by photographer Harry Ewing).
On a memorably pleasant spring day day some years ago I was privileged to be given a tour of an old mental health institution in the Midwest. The hulking and late Victorian era stone building (complete with mansard roof and turrets) looked like something straight out of a horror movie. Once housing thousands of patients, this facility is now home to little over a hundred severely mentally ill individuals, along with some offices and outpatient clinics. Most of the remaining space sits vacant, full of dust and memories. Of these memory-filled spaces perhaps the creepiest on the tour were the surgical suites, once used for a variety of "psychosurgeries". The most popular and notorious of these was the prefrontal lobotomy.1
The lobotomy is a prime example of the hubris of mid 20th century medicine. It is estimated that this technique was performed on over 40,000 Americans, mostly in the 1940s and 50s, although it persisted even into the late 1970s. A crude and imprecise surgery, the lobotomy had a high mortality rate, and caused such complications as seizures and behavior changes–it left many people drooling and docile. The procedure was sometimes performed by non-surgeons, and even by non-physicians. In that era of paternalism in medicine, informed consent was not always obtained. Often the procedure was done for what we would now say is no very good reason. A man named Howard Dully has the distinction of being among the youngest of patients to receive this procedure, when he was only twelve, essentially for being unruly and hostile toward his abusive stepmother. His story has been recounted in a book called My Lobotomy, and also in this article from The Guardian.
One aspect of the lobotomy story that has piqued my interest is the personal and professional rise and fall of the lobotomy's most enthusiastic proponent, Dr. Walter Freeman. A Yale grad and University of Pennsylvania trained Neurologist, hailing from a prominent family, he was present at the 1930s international meeting where Portuguese Neurologist (and future Nobel Prize winner) Egas Moniz described the earliest cases of lobotomy performed on humans. Freeman soon modified the procedure so that the brain could be entered by hammering an ice pick into the medial aspect of the orbits. A natural showman, he toured the country in a van he called "the lobotomobile"; It is said that he performed 3500 lobotomies in his lifetime.
An Ohio physician, Dr. Wolfgang Baumgartel, later recounted to NPR his recollection of a 1956 visit by Walter Freeman to his facility:
As far as I remember, he probably did between 15 or 20 on that particular day. Dr. Freeman did not leave the operating room after each procedure — the patient went out, the next patient was ready to come in, had his procedure done, went out again, and then the next patient came in…
I remember that he was relaxed. He was very calm while he was operating. He made it look easy to do it. I think he had an extremely self-confident personality. He didn't have any qualms. He wanted to prove that he was right, he was convinced that he was right. I thought, "How can a man be relaxed just going blindly into a brain ?!" But of course, I didn't have the authority to say, "Stop that!"
Even in its heyday, the procedure was not without its detractors. His own partner, Dr. James Watts, disapproved of the new "icepick" procedure, and parted ways with him in 1950. Other physicians were appalled as well. As the Wall Street Journal reported: In 1948, one senior VA psychiatrist wrote a memo mocking Dr. Freeman for using lobotomies to treat "practically everything from delinquency to a pain in the neck."
Dr. Freeman could be reckless. Elizabeth Day wrote, He had a buccaneering disregard for the usual medical formalities – he chewed gum while he operated and displayed impatience with what he called 'all that germ crap', routinely failing to sterilise his hands or wear rubber gloves.
From the earlier cited WSJ article: One patient in Iowa in 1951 died when the doctor chose an inopportune moment to stop for a photo and the surgical instrument penetrated too far into the patient's brain, Freeman biographer Jack El-Hai wrote.
Freeman famously lobotomized Rosemary Kennedy, leaving her in a permanently infantile state. According to Lisa Waller Rogers, lobotomized patients often had to be retaught how to eat and use a toilet.
Although the discovery of Thorazine and a growing public horror of the effects of the procedure pushed the lobotomy out of vogue, Walter Freeman continued to perform them. Jack El-Hai states:
He refused to stop his support of lobotomy when common sense and medical expediency demanded that he do so. His stubborn advocacy of lobotomy during the 1950s and 1960s, and the many patients who were drawn in by his championing of the procedure, is a large part of the tragedy of the first era of psychosurgery.
(Jack El-Hai (2008), p. 138)
His personal life unravelled in tandem with his professional life, or perhaps drove his strange zeal. It is reported that he had a terrible relationship with his mother, and his marriage was troubled as well. Youngson and Schott related the following in an article for The Independent:
All emotion, all anger, and the blind, black rage that many suspected was within Freeman were turned inwards, and when they emerged, it was in strange and grotesque fashion. … Twelve years earlier, Freeman had experienced a nervous breakdown, brought on by overwork. He had been particularly scared by this experience, and ever since had taken at least three capsules of Nembutal every night to guarantee sleep. Nembutal also gave him a dreamless sleep. Freeman did not like his dreams.
Dr. Freeman was forced to retire in 1967, when his last patient died of a brain hemorrhage, and he was banned from operating. He had already become a bit of a pariah in the medical community, operating out of a private clinic because he had been pushed out of the hospitals. He remained defensive, writing bitter limericks about his professional enemies. His last years were spent touring the country on a quest to interview his former patients and revive his legacy. He died of cancer in 1972.
I used the word hubris" earlier, which well fits the good doctor Freeman's refusal to turn aside from the procedure he loved. As the Good Book says: "Pride goeth before a fall."
For further reading:
---
1. In my remembrance, although the lights were off and the doors locked, these suites appeared sterile, clean, and stocked; They seemed almost as if they had just been closed up for the day, rather than abandoned decades ago. They gave an eerie impression of being ready to go back into service if needed by a new crop of doctors.