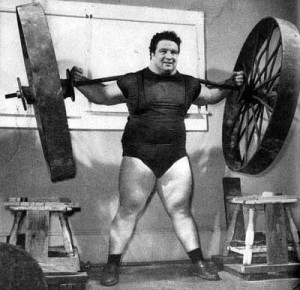 Look up Paul Anderson in Wikipedia and you'll see the story of a man of amazing strength:
In 1955, at the height of the Cold War, Anderson, as winner of the USA National Amateur Athletic Union Weightlifting Championship, traveled to the Soviet Union, where weightlifting was a popular sport, for an international weightlifting competition. In a newsreel of the event shown in the United States the narrator, Bud Palmer, commented as follows: "Then, up to the bar stepped a great ball of a man, Paul Anderson." Palmer said, "The Russians snickered as Anderson gripped the bar which was set at 402.5 pounds, an unheard-of lift. But their snickers quickly changed to awe and all-out cheers as up went the bar and Anderson lifted the heaviest weight overhead of any human in history." The Russians referred to him as a "wonder of nature".
Disappointingly, the remainder of that Wikipedia article somewhat underplays the role of faith in his life. More than a mere "wonder of nature", he was also a man of deep faith in Christ.
He went on to win the gold medal at the Olympics the following year, despite an ear infection and a high fever. As one source put it, a weakened Anderson, facing defeat, decided to "call upon God's strength":
Before his third and final attempt, Paul Anderson called on God for extra help and strength. Later he would say, "It wasn't making a bargain, I needed help." As those tree-trunk legs and massive arms moved into motion with renewed strength he hoisted the bar high over his head. The once sick, frail boy from the foothills of the Appalachian Mountains was now the "Strongest Man in the World."(read more here).
He devoted much of the rest of his life to sharing his Christian testimony. After impressive feats such as back lifting 6270 lb, or benching 480 lb, he would say, "I am nothing without the strength of Christ." He married a devout Christian woman named Glenda and devoted himself to raising money for a youth home in Vidalia, Georgia. He died of his kidney ailment (Bright's disease) in 1994.
More information about this remarkable man can be found at the websites for Fellowship of Christian Athletes and the Paul Anderson Youth Home.