As an inauguration approaches in 21st century America, the church calendar takes us back to another inauguration in 1st century Palestine. Jesus began his public ministry by being plunged under the running waters of the Jordan river.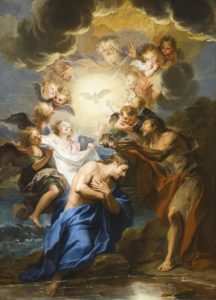 ("The Baptism of Jesus", by Antoine Coypel, 1661 – 1722)
It is a deep mystery why the Sinless One would submit to being baptized by his cousin John. John's baptism was one of repentance. It was a purification rite to ceremonially cleanse people of sin. Baptism was not something a perfect God-man would require.
John said as much when Jesus approached: "I should be baptized by you." Jesus' answer was short and cryptic: "Let it be so, to fulfill all righteousness."
One Rev John Watson, a 19th century Scottish Presbyterian, described Jesus' motives this way:
What Jesus desired was to forget His perfect purity and Divine dignity, and to plunge into the very depths of ordinary sinning, sorrowful human life. In His pity and sympathy, Jesus desired to lift the burden, which would be on His own shoulders, but could be no part of Himself. According to the excusable idea of the Baptist, his Lord should have gathered His white garments around Him with fastidious care and stood alone on the banks, while at His feet the waters were stained with the sins of poor struggling humanity. But according to the heart of Jesus He must descend into the midst of the river so that in the end what neither the water of the Jordan nor any other could do would be accomplished by His lifelong Passion and His death. This baptism was a sacrament of the messianic love–a pledge of utter devotion to His fellow men, a symbol of identification with Humanity. (The Life of the Master. New York: McClure, Phillips, 1901).
Today, we celebrate this great mystery. Jesus didn't need baptism, but he chose to undergo it as a way to identify with us, and to inaugurate his ministry.