A Greeting
Greetings, in the name of our Lord, Jesus Christ. Welcome to this site. It was created with several goals in mind.
To celebrate a great Christian heritage and cheer those who still claim a part in it.
To provide assistance to those who who may be seeking more information.
To gather in one place a collection of useful resources for devotion and theological reflection.
To empower anyone who feels called to become a leader, to go ahead and do it! Rise up and exercise your gifts. At your baptism you became part of a "royal priesthood of all believers" (see 1 Peter 2:9).
Finally, this effort represents an offering of time and creativity, rendered back unto God our Maker.
This website is admittedly a bit idiosyncratic. I don't hew to one particular denomination or strand of Christian thought or practice, but prefer to celebrate the common core, what the popular writer C. S. Lewis once termed "Mere Christianity". I am no judge of who is in or out (God knows His own), but I am happy to call anyone my brother or sister who loves the Lord and embraces His Word.
It should be clear that whether one is Reformed (Calvinist), Charismatic, Catholic, Orthodox, or any other flavor of Christian, what unites us is greater than that which divides. While visible, institutional unity is not a likely event, we should meet halfway wherever we can to cooperate in promoting the "Good News" and to make a cogent effort to answer the questions that are raised in this age of skepticism.
About the name of this website (Click/press text to reveal more information)
This can be interpreted in different ways. One idea is that our target is the one invisible or real church (consisting of all those who belong to Christ) as distinguished from the visible church institutions. Also, many Christians have begun to express a sense that in the cultural upheaval and overthrow of Christendom that has been occurring, authentic and orthodox Christians may well find that they need to prepare to "go underground" in a more direct manner. We aim to help Christians in personal devotion, and to provide some helpful resources to any Bible study groups, prayer circles, or house churches that may find this site useful.
About the author (Click to reveal)
The moniker "brother James" admittedly is a pseudonym used to protect the innocent. As this is not my only vocation, I prefer not to degrade this work that aspires to holiness by unintentionally involving other ("real world") clients, associates, and nonprofit and academic institutions with which I associate. Also, I'd prefer to fly under the radar of any "intellectual property" issues. I hope it is sufficient to satisfy your curiosity that I have a doctoral equivalent degree and am working in a helping profession. I am a "little doc" in service of "the Great Physician".

I have been involved in a variety of ministries since my preteen years when I was part of the "Puppet Ministry" and "bus ministry" of a church in Missouri. In my years on this earth I have had experiences with preaching, teaching Sunday School and Wednesday night classes, and leading Bible studies. I have sojourned through several faith communities, and I know and love people in a variety of church settings.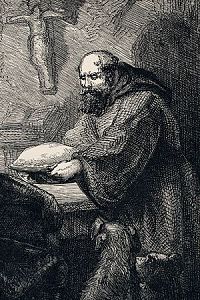 Acknowledgements and disclaimers (Click to reveal)
I do not make claims to any originality, as the Christian faith is not novel, and a horde of very smart people have been thinking deeply about it for centuries. In fact, most of the heresies that it faces today are the same as (or at least bear strong resemblance to) those that plagued it centuries ago. I lean on the Bible, the traditions of the church, and the insights of the saints of old; and I celebrate the ideas of my betters.

In the texts I use I will give attribution where it is due. Borrowed material will be acknowledged as such. Most of the images I have used in decorating this website are in the public domain. The audio files are either public domain, unpublished personal files, or else used in accordance with their copyright licenses, as far as I am aware. I am human and can err, and when I discover that I have done so I will immediately take steps to rectify any problems.
Contact (Click to reveal)
Via email: brotherjames@theundergroundchurch.net
Banner photo
St. Simon the Tanner's Hall by Ayoung0131 at English Wikipedia. Licensed under CC BY 3.0 via Wikimedia Commons. It has been altered and resized for use as a banner.